Welcome to our Neighbor Spotlight! Here, we will feature neighbors and their history, both short and long, with Overdale Park!
---
Say hello to Craig Nelsen & Margaret Hall!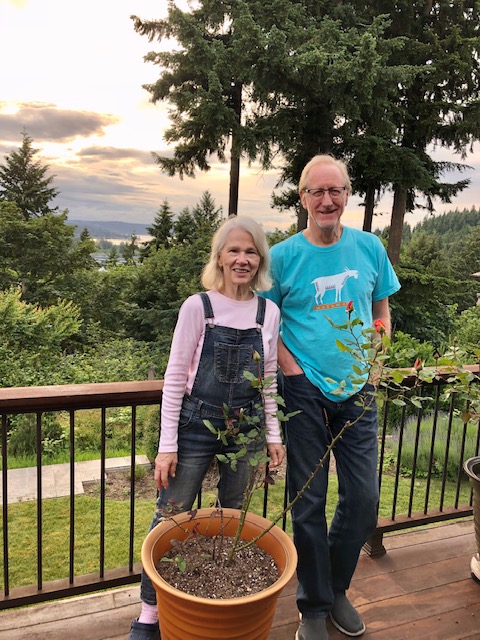 Craig Nelsen and Margaret Hall have enjoyed Overdale Park for 33 years. Both are native to the Pacific Northwest, Margaret from Oregon and Craig from Issaquah! Way back in the early 1970's, Craig hung out at "McEwen Pass" (otherwise known as the McEwen home on SE 58th St. now owned by the Peterson's), which was then home to one of his high school buddies. After marrying Margaret Hall they decided on a home with a western exposure, close proximity to I-90 and a lot of character (as opposed to conformity) in the neighborhood that would suit them best. Since Craig already had a fondness for Overdale, they found a house with a pool on 229th and raised their son and daughter there. Craig recalls great joy in buying a house with a pool, in 1987, and great joy in selling it 20 years later!
Craig has served many years on the HOA Board. Margaret chaired the Social Committee, organizing picnics and holiday parties. I remember a winter holiday party with a horse drawn wagon, decked out in sleigh bells, that clip-clopped around the neighborhood, picking up excited kids and taking them to the party, which rotated between people's houses each year.
In 2009 Craig and Margaret bought and remodeled Ed Verraneau's home which was originally started in 1958. From the cul-d-sac near the park they finally got their view! Much to their delight, they also got good neighbors that have become special friends.
During our talk, I learned that Overdale Park was the first platted neighborhood on the plateau!
---
We want to thank Sarah Bergdahl, our neighbor and HOA Board Member, for this exciting new addtion to our website! We'd also like to thank Louise for volunteering her time to be our first feature!
---